Win new business. Retain customers. Maximise revenues.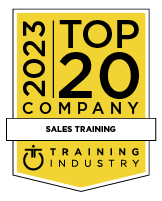 For any company to thrive in the current business environment, sales leaders and their teams must have the correct level of expert training. This ensures salespeople possess the wide breadth of skills needed not only to reach tough targets, but also exceed them. It also ensures all sales leaders have the skills needed to motivate the team around them to achieve their full potential.
With customer expectations increasing all the time, and services and products more commoditised than ever before, your sales team also now needs to do more than just sell. In order to maximise sales figures, win new business and retain key customers, your sales staff need to become 'trusted advisors' in the eyes of your customers – this only comes with confidence, experience and bespoke sales excellence training.
Here at Tack TMI, our expertly delivered Sales Excellence training courses have been designed with this in mind. Upskill your entire sales team – or individual team leaders and managers – with bespoke courses to fit your industry and see the results for yourself. After all, when it comes to winning new contracts, maximising revenue and retaining valued existing customers, there is no replacement for an expertly trained and motivated sales workforce.
What we offer
Here at Tack TMI, our coveted series of Sales Excellence solutions address a wide spectrum of sales development needs. Whether your business has an accomplished sales department with years of experience or a team of new starters eager to learn, our Sales Excellence training courses are designed to help prepare them for the unique challenges of an increasingly competitive modern sales environment. Targeted areas of training and development include:
Prospecting
Motivating Teams
Time Management
Sales Leadership
Consultative Selling Skills
Sales Coaching
Customer Relationship Building
Key Account Management
Negotiating
Selling through Distributors
Strategic Selling Skills
Sales Communication
Our Sales Excellence Solutions
Delivering Results
Whether you are looking to provide those fresh into sales with a solid foundation on which to grow, hone existing techniques of experienced sales teams or develop specialist skills, our BEFORE, DURING and AFTER approach ensures you receive the right interventions tailored to the needs of your people and your business.
Get in touch
To learn more about our Sales Excellence training programmes, feel free to contact us. You can either call us on 01923 897 900 or email us at UK@tacktmiglobal.com to speak to a member of our experienced team. Alternatively, fill out a contact form here to get started today.